When the team from the International Rescue Committee registered teachers at Melkadida Host Community Primary School to participate in a training on Learning through Play in 2021, little did Teacher Mohammed know his teaching style was about to change.  
Teacher Mohammed, who has been teaching primary school for 33 years, eight of which have been at Melkadida, was about to learn that teaching is not just about a teacher instructing but also about making learners enjoy the lesson. It is now evident that his teaching style changed from lecture-based to actively engaging when you visit his class. On this day, he was teaching about handwashing as part of a Science lesson. The blackboard was decorated with papers illustrating the steps in good handwashing practices. The table at the front of the class had soap, tissue paper and water as materials learners will use to practically learn handwashing.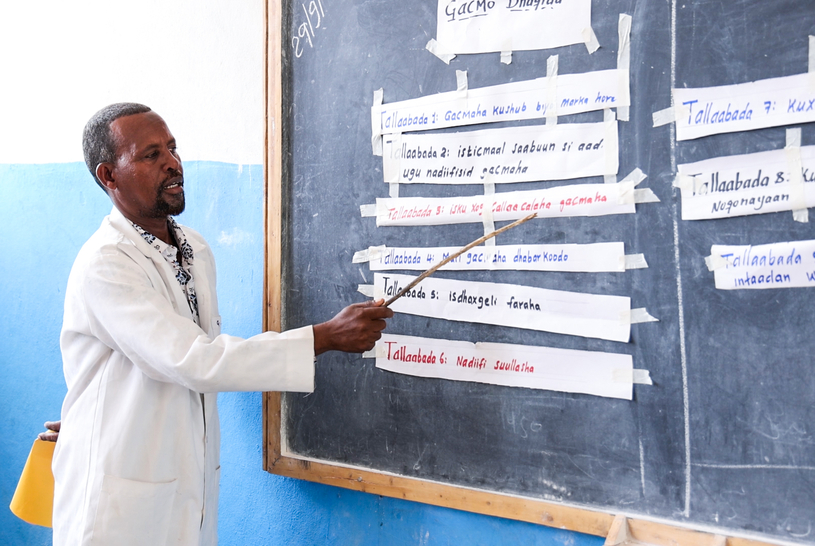 The teacher, too, had composed a song on handwashing that learners would sing to understand the different steps. It is immediately evident that a Learning through Play (LtP) class is in session!  
"Learning through Play training has totally changed the way I teach. I now use locally available materials in class and have practical games to demonstrate," Teacher Mohammed said. "Based on the topic, I choose the suitable game to better illustrate the lesson. For instance, together with learners, we create a game to illustrate the lesson we are learning that day." Not only does he use games in class, but he also ensures that learners fully participate in the lesson. Teacher Mohammed assigns learners to demonstrate the handwashing steps to their peers as they all joyfully participate. And this has endeared him to his learners, a reason he asserts that LtP is important.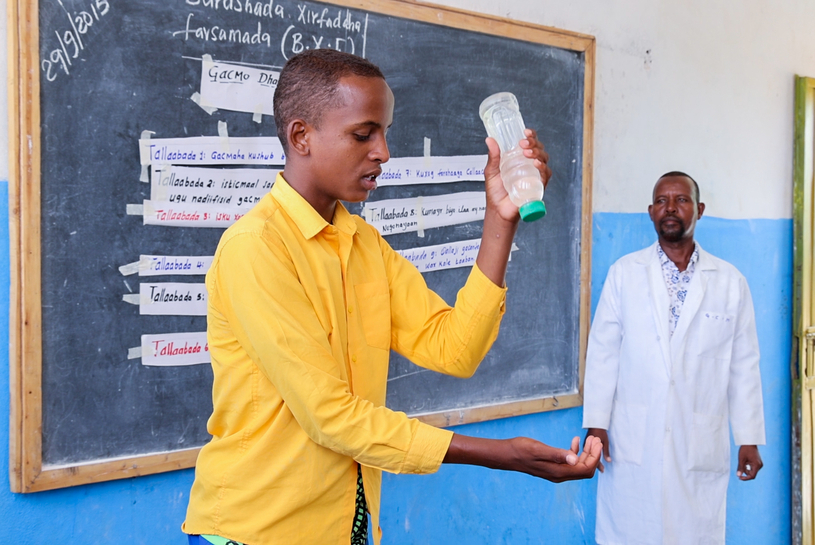 "LtP connects learners and teachers. The way children learn is different from adults. I interact with them freely and include a game during the lesson," he said.  
The PlayMatters project is supporting teachers like Mohammed through continuous professional development (CPD) on LtP including supportive supervision, peer learning, among others. So far, more than 1,000 teachers have benefitted from PlayMatters' CPD in Ethiopia.   
Although teacher Mohammed says his learners lack a library where they can read books that can expose them to a world beyond their own, he hopes they can have a bright future.   
"I want a bright future for my learners. I get proud seeing children I taught from Grade I at a,b,c,d working in hospitals, schools, NGOs and different sectors," he said.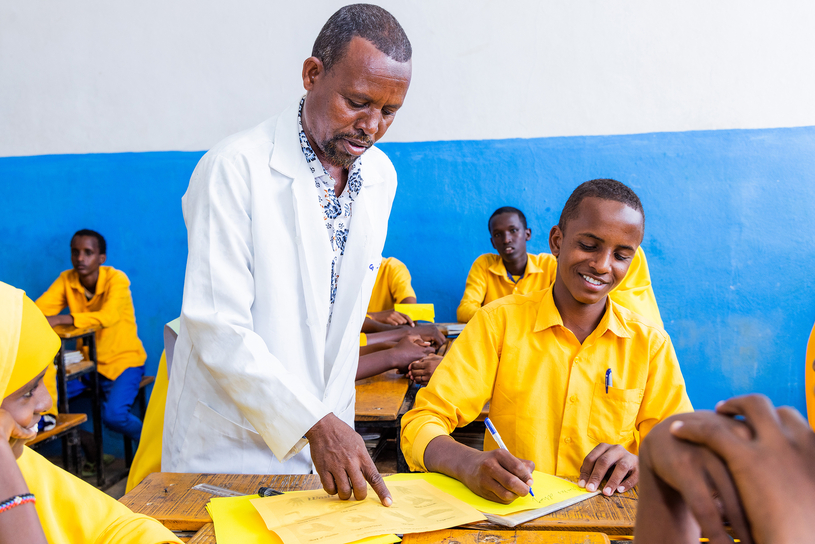 As the vice director of the school, teacher Mohammed calls on leaders to, "provide quality access to trainings, services to teachers because they are the ones that focus on the education of the children." Thirty-three years later, teacher Mohammed says, he is determined to continue serving his community as a teacher.
Read more about how the PlayMatters project is supporting teachers in Ethiopia here!