Chandiru Christine has been a teacher for the past 42 years and is now the Principal of Kitgum Core Primary Teachers Training College in Lamwo District, Uganda. A seasoned Early Childhood Development (ECD) & Primary School expert, Chandiru has taught thousands of learners and upcoming teachers as they prepare for deployment to schools across the country. Two weeks before her retirement, Chandiru spoke to PlayMatters about herself, her career, and her views on learning through play.
Question: Do you have a learning moment from your childhood that you have never forgotten?
Answer: Yes, I remember our teacher telling us a story of a woman who climbed a tree to fetch firewood from dry branches. She accidentally stepped on a weak branch that broke, and she fell down and screamed "Aaaaa". That's how I mastered the letter A as well as other letters of the alphabet using stories.
Question: Interesting...What is it that you remember the most about that experience? Is it the thought of the pain of the woman falling down from the tree or was it learning letter A?
Answer: In those days, and even today, women used to fetch firewood and such accidents used to happen. Learning the alphabet using stories that we were relating to in the community made me not forget what we were taught. These stories are the ones which made me want to become a teacher.
Question: ...and how has your experience been teaching for the past 42 years?
Answer: I started teaching in 1980 and that feels like it was yesterday. I started off as a primary school teacher earning UGX. 600 ($17 cents) a month. I taught in several private and government schools, rose through the ranks to becoming a tutor/teacher instructor and then Deputy Principal and Principal of Several Core PTCs like Bushenyi, Arua, Lodonga, Mbarara to name a few. I am now about to retire, and it has been a fulfilling journey to contribute to the development of the education sector in the country.
Question: How can learning through play be promoted through Teachers' Training Colleges?
Answer:  1st, teacher training colleges have two main mandates. The first is pre-service training where we train upcoming teachers for 2 years before they are sent out to schools to teach. The second is outreach, following up on teachers who were trained by the college to assess how they are faring, and to support them to grow their teaching skills through coordinating centers. Working through the colleges can help to make learning through play approaches more systematic, and reach a wide number of students in the long run. It can easily be cascaded across the board since all teachers pass through the colleges before being sent out to schools. 
Question: How is PlayMatters working with Kitgum Core PTC?
Answer: When PlayMatters was introduced to the college, we called all tutors/teacher instructors as well as teachers deployed to various schools in Lamwo District. Together with PlayMatters, we took them through a training on learning through play, and worked together with community leaders, and parent-teacher associations to mobilise parents to send their children back to school after the long closure.
For the current 72 pre-service tutors/teacher instructors in the college, we also conducted a follow-up training on learning through play, and they are practicing the techniques at a demonstration ECD, and primary school located at the college. We are also working with them to produce low cost or no cost teaching materials through our production center.
Question: What do you think of learning through play methodology?
Answer: Teaching through hands on and manipulative ways like practical activities makes learning lively and children do not forget easily. They also become more confident. Teachers need to think outside the box and make learning enjoyable and let children relate and participate in the process, just like I have not forgotten how we were taught the alphabet using stories.
-----
We then spent 30 more minutes chatting about Chandiru's career and life (she graduated with a Master's in Development Studies and has four children, all university graduates). She is now looking forward to retiring and passing on the baton to future generation teachers.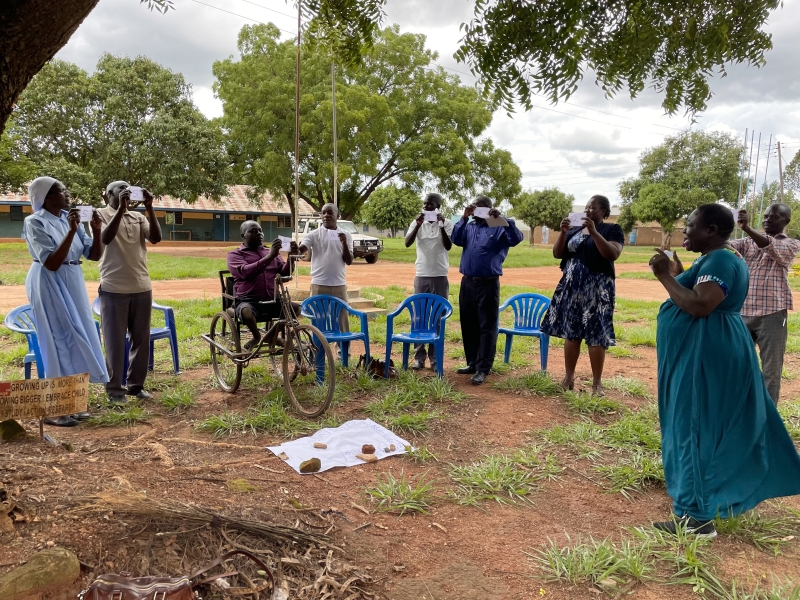 We thereafter visited Beyogoya Primary School, one of PlayMatters' target schools whose teachers were trained on learning through play and engaged in the back-to-school campaign.